Sergeant Killpack with the Washington County Sheriff's Office was recognized with the Gift of Life Award today at the Washington County Commission meeting. Dammeron Valley Fire and Rescue gave the Gift of Life Award to both Sergeant Killpack as well as Jayden Darrington (who was unable to attend,) a passerby who stopped out to assist. This all stemmed from a vehicle accident that occurred in the early morning hours on June 9th.
A white Kia Stinger was traveling on SR 18 at a very high rate of speed. The driver was unable to safely manage to turn near mile marker 13 and went off the road. Sergeant Killpack began to respond to the scene with limited information from a crash detection system. In the nine minutes it took Sergeant Killpack to get to the wreck, Jayden Darrington came upon the vehicle, that was on fire. Jayden saw the driver still in the vehicle and helped pull him from the burning car.
Sergeant Killpack arrived and found Jayden there with the driver at the side of the car. Sergeant Killpack, with Jayden's assistance, moved the driver, who was seriously injured, away from the burning car to the side of the road. At today's Commission meeting where Sergeant Killpack was given his award, he expressed what many first responders say, he was just doing his job. He further stated, that the real hero in this is Jayden, who stopped out with no training, and not being prepared for what he may find, jumped in to help with out question.
With the volatile situation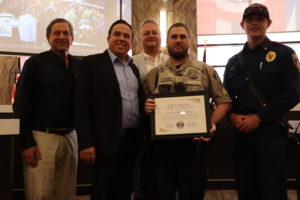 vehicle fires can be, both Jayden and Sergeant Killpack genuinely are heroes. We are thankful to Dammeron Valley Fire and Rescue for acknowledging this and presenting these awards.