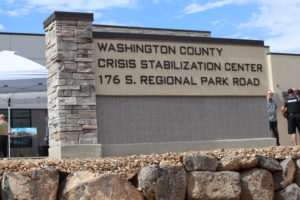 Washington County held the ribbon cutting for the new Crisis Stabilization Center (also referred to as a Receiving Center) on Tuesday, August 22nd. The ribbon cutting was attended by Governor Cox, Washington County Commissioners Iverson and Snow, County Administrator Felshaw, and Sheriff Brooksby. What is a Receiving Center though, and how can it help our community? Why were there so many law enforcement officers in attendance for the ribbon cutting? Read on if you want to know more!
A Receiving Center gives our community a first-line option for crisis intervention. This new center in open 24/7/365 and functions as a crisis response site and offers brief crisis stabilization. It will be staffed by nurses, peer support, and councilors. It is meant for people (adults) experiencing mental health, substance use, or other behavioral crises. It also functions as a diversionary program that officers can sometimes use as an alternative to taking first-time offenders to jail (moreon that later.) People using a receiving center generally stay up to 24-hours or until the crisis has stabilized. They can receive physical health screening, detox services, medication management, and suicide assessment. Once stabilized they will be linked to a treatment program and discharged.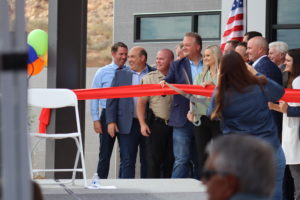 This is a voluntary and optional program that can be offered to our community members. Let's talk about the diversionary program this offers… Law enforcement officers have the option of taking people to the Crisis Stabilization center in lieu of taking them to jail or to the hospital for some minor offenses that were caused by mental illness, substance use disorders, or are linked to drug use. People who are actively using drugs, but are seeking help with their addiction, or people with suicidal ideation due to depression or mental illnesses can be taken here. They will receive the services mentioned above and if they follow through with the program it could mean no charges may be filed. This option is not for everyone. First, it is voluntary. If a person does not want this option the Crisis Stabilization Center will not take them. It is also not available for any crimes such as DUI, combative/assault/danger to others, person-on-person crimes, or theft that has loss to another person. As Sheriff Brooksby stated at today's ribbon cutting, the goal is to get people back into the community as productive members of our society.
The Crisis Stabilization Center can also be used by people going in on their own or being dropped off by family members and law enforcement does not need to be involved. This is the second type of building and program like this established in the state, with the first being in Davis County. We at the Sheriff's Office are excited about this new additional resource available to our community.